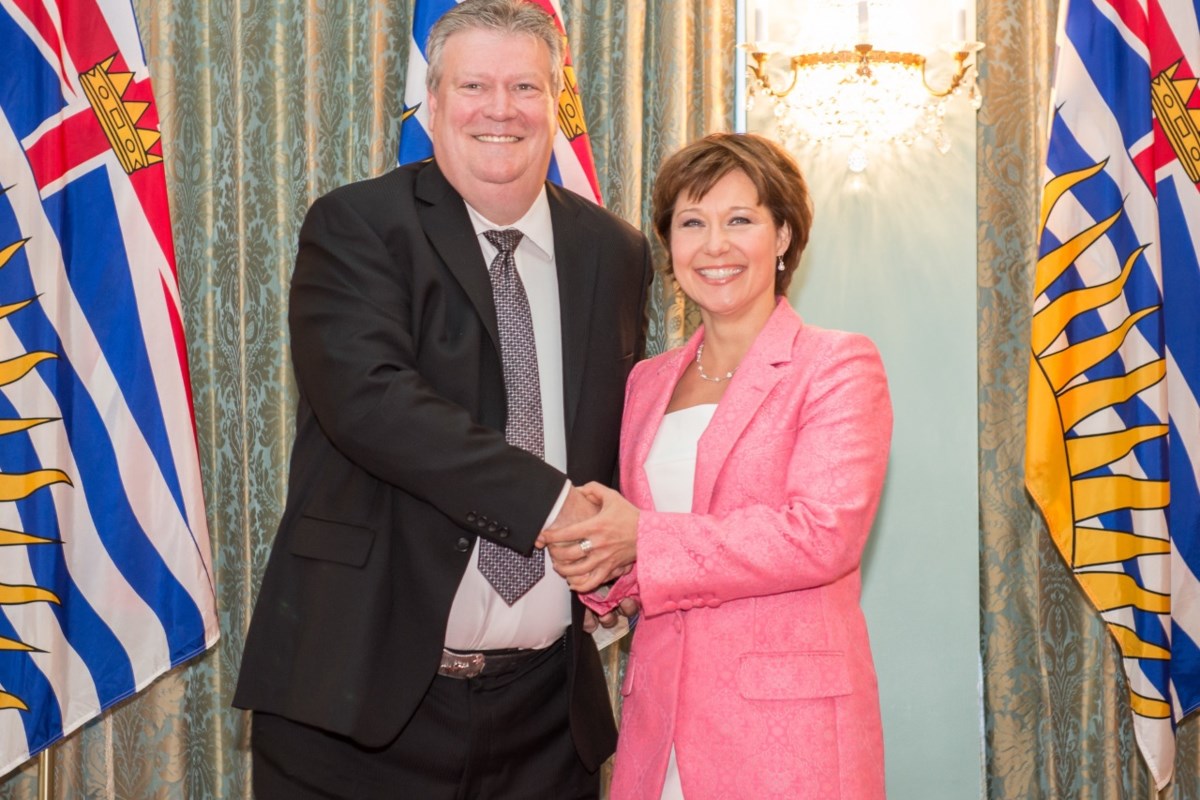 B.C. Michael Graydon, CEO of Lottery Corp., was responsible for increasing revenue – while keeping crime income from getting into the casinos.
Were the officials overseeing the gambling too focused on revenue rather than social responsibility to meet Prime Minister Christy Clark's expectations?
That is the question B.C. Michael Graydon, CEO of Lottery Corp. (BCLC), at the Money Laundering Inquiry into B.C. Thursday.
Graydon had written repeatedly to BCLC executives warning that failure to meet sales targets would lose up to 20% of their pay in rewards for lost incentives.
An email dated December 2011 suggests that Clark found a new "tone" in government when she was appointed in March 2011.
"The tone in government is not good these days and if you don't hit the budget, the disbursement incentive won't fly. So think about the consequences you will have if you don't vigorously participate in this process.… These are very different times and we need to respond to our shareholder, "Graydon told nine executives in the email sent to the investigative committee was communicated.
That sole shareholder is the government, and Graydon said they "took more initiatives than money, so they counted on the contribution that we agreed in our budget.
"They insisted we deliver what we planned and this note is intended to reinforce that."
However, Graydon told the commission that his repeated emails about the government's revenue targets did not mean that his agency was ignoring the Anti-Money Laundering (AML) guidelines – the alleged "dual mandate".
"The time invested and invested in this project suggests that we wanted to create a safe regime. Obviously, if there was no intent or likelihood of money laundering, we would obviously not need anti-money laundering programs." The fact that we were primarily a cash-based company meant we were vulnerable to these types of things, "Graydon told commission attorney Patrick McGowan on Thursday.
Graydon, unable to recall many details, said the BCLC has an AML regime and is constantly improving it.
Last November, casino investigator Larry Vander Graaf, along with others who have testified, alleged that BCLC had a conflict of interest. On the one hand, BCLC – which was tasked with managing and operating games of chance, including licensing casinos – needed to meet government revenue targets while preventing money laundering.
By 2014, the situation was so advanced that there was confusion in BCLC and the Gaming Policy and Enforcement Branch (GPEB) about implementing even rudimentary measures, such as asking players who brought in duffel bags of $ 20 bills to the source to identify the money.
Graydon was CEO between 2008 and 2014. In 2013, his head of security and compliance, Brad Desmarais, and Vander Graaf, executive director of the GPEB casino investigation, did not speak to each other. GPEB staff previously described to the Commission how BCLC's regulator was inoperable and underfunded.
Meanwhile, Clark's government tasked Graydon with an annual revenue increase of $ 40 million.
McGowan noted to Graydon that he was not giving any notice to AML staff.
Even so, Graydon assured that the BCLC commission was aware of the problem. In its day, BCLC created electronic money accounts, but they were rarely used because they were voluntary.
McGowan asked Graydon what gambling ministers knew about money laundering problems.
He said they were familiar with the $ 20 bills that come into the casinos.
"Did you raise a matter with any of the ministers or with one of them? Casinos could be used to process the proceeds from crime? "Asked McGowan.
"Again, I can't remember if that specific terminology was used, but we communicated regularly about the mitigation measures," Graydon said.
John van Dongen, Rich Coleman, Shirley Bond and Michael De Jong were the four ministers responsible for BCLC between 2008 and 2014.
Graydon said all ministers supported the anti-money laundering measures taken. "Every ministry I was allowed to report firmly believed in the social license," he said.
Coleman disbanded the RCMP Integrated Gaming Enforcement Team in 2009 on alleged recommendations by a committee that it was ineffective.
The Commission has tried to break down the chains of command. It is known that low-level investigators triggered numerous alarms between 2008 and 2010. Still, the money kept coming and a high-level RCMP investigation was launched by 2015 after suspicions were raised that a transnational network for organized crime in casinos had started operations.
Graydon only testified for two hours, which is less than other top stakeholder managers. There were a lot of details he didn't remember.
When asked by McGowan if B.C. Casinos processed significant income from cash in its day. Graydon said there was no way to quantify the matter and preferred not to speculate.
Graydon left BCLC in January 2014 to become President of Parq Holdings Limited Partnership and run the Clark-approved Parq Vancouver Casino until February 2016. Today he lives in Toronto as CEO of Food, Health & Consumer Products of Canada (FHCP), his LinkedIn profile.
The commission begins on February 16 with a roughly four-week statement about money laundering in real estate. She is expected to get back to casinos. Politicians like Coleman are expected to testify.